Podcast Version: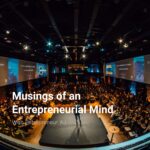 Video Version:
Written Version:
TLDR; Mental health is no laughing matter, before starting a business make sure you have people available to help you when you struggle.
So today is one of those days when you instinctively go into zombie mode because you're that mentally worn out you're drowsy and feel like a powder keg with a lit fuse.
Entrepreneurship is one of the most rewarding career paths but at the same time also one of the most difficult. It not only affects your work life but also your personal life. It's all too easy to pile up and blend the two together. A challenge is an understatement when it comes to keeping the two separate.
To live a fulfilling life, you need a strong balance between the two lives. Problem is, there are never enough hours in the day. The NHS recommends adults get between 7 and 9 hours of sleep per day to be healthy. We will use the midway point of 8 hours for this example. In perfect balance, you would get the magic 8 – 8 – 8. 8 hours sleep, 8 hours work and 8 hours personal life. Modern society is increasingly rushing around yet getting less and less done each and every day. Personally I am lucky to get 3 hours sleep a night undisturbed. I frequently work from the moment I wake, I struggle to switch off and yes it has done a lot of damage to my health, both physically and mentally. I am working on it though.
I hate idleness, to me, it feels like I'm wasting my life even if it is only for an hour it drives me insane. People find it strange that I rarely watch TV, there are just too many better things I could be doing with my life then to sit wallowing in front of the idiot box. I drifted from pretty much all friends growing up instead replaced them with a larger stressor of getting involved with a dysfunctional family which I nievly didn't think about the amount of stress that entails.
It is common knowledge that entrepreneur's struggle with depression, and sadly there isn't an easy fix.
In my small personal circle, there are a few entrepreneurs and each one of them are either going through or have gone through serious mental health issue's whether they admit it or not. Some turn to violence, some to alcohol or narcotics. Some have had their fights with intrusive suicidal thoughts beleiving that they have lost everything.
Especially the male entrepreneur's, statistically the suicide risk is higher than female entrepreneur's due to societies stigma of males having mental health issues.
But on the flip side, after all the hurdles, temporary failures, self-doubts and intrusive thoughts once you hone in on the best way to run a venture that works for you, your venture will become self-sufficient, building a team of passionate people will allow you to take some well deserved time to recharge and rekindle your passion for entrepreneurship. Normally you would expand or move on to your next venture, knowing the base is there and up is the only direction left to go.
My goal is to have a comfy life to not have to worry about having to fall back on the benefit system, which I have had to in the past, don't get me wrong there is nothing wrong with it. Unless you're only using it for a free payday because your too lazy to do anything with your life. I say I would like to retire early but I also know I would get idle and build another venture up.
The key point after a fair bit of waffle after all it is my musings from my entrepreneurial mind is, if you want to become an entrepreneur make sure you have a mental health support network available to you. Too many lives are destroyed or lost because people think that the weight of the world has to be on their shoulders. It doesn't! Whilst it is true that no one will put as much effort in to your venture as you will. There are people around you who would rather have your break-down on them and support you through your times of need rather then carrying your coffin. The glitz and glam of the well known business' elites is not a true representation of the hard work that has gone into getting them where they are today, anyone that says it is going to be easy are not being honest.
To anyone watching, listening or reading my content if you're going through hard times and not sure who you can turn to, I'm here send me a message and I will reply as soon as I can. You're not alone. Become the success you want to be, no matter what doubts you have.